Col. Abraham Malone Johnson
"The Founding of ST Elmo"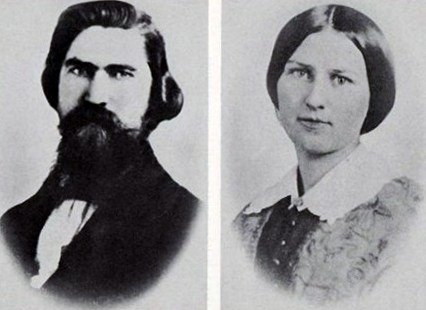 Col. Abraham Malone and Thankful Whiteside Johnson Founders of ST Elmo
Abraham Malone Johnson was born in Gainesville, Georgia in 1830. At a young age he became an apprentice tanner which would lead to his first venture into the business world. Young Johnson was a restless man with dreams so, at the age of seventeen he left home. By 1851 he had arrived in Chattanooga where he and his brother-in-law John P. Bryson started a tanning business. About two years later Johnson became a Post Office route agent for the Nashville and Chattanooga Railroad. It was at this time that he met Thankful Anderson Whiteside. Thankful was the daughter of Col. James A. Whiteside, one of Chattanooga's founders and leading citizens. Whiteside didn't find Johnson suitable for his daughter Thankful.
Thankful had become engaged to a law student from Shelbyville, Tennessee who was working for Col. Whiteside as a law clerk. Col. Whiteside was pleased with her engagement as Col. Whiteside was himself a lawyer. Whiteside's pleasure soon turned to anger when in November 1857 just two days before her wedding, Thankful eloped with A.M. Johnson. Johnson had borrowed fifty dollars from Frances Walker where he and Thankful could get married. Whiteside didn't speak to Thankful for more than a year until he learned that Johnson had given birth to twins. Col. Whiteside sent a servant to help with the children and Whiteside and Thankful were able to settle their differences before his death in 1861. Many years later A.M. and Thankful's daughter Anna Johnson eloped with Jack Betts just two days before she was to marry someone else.
Soon after their marriage Johnson became the superintendent of the Will Valley Railroad. During the Civil War he operated several railroads in Georgia serving under the Confederate Government receiving the honorary title of Colonial. During the war as a railroad operator Col. Johnson was able to keep his family safe moving the family by railway from city to city staying clear of battle sites. The Johnson's had seven children together. Their names were Mary Thankful (minnie) and Anderson Malone who were twins. Other children were James Whiteside Johnson who married Sue Cleage, Frances Amanda who married Douglas Everett, Helen who married Robert Nielsen Phillips, Anna Miranda who married John Betts and Ephraim Foster.
Anderson Malone Johnson got into a fight over a woman which resulted in a friend being cut in the neck. The man claimed it was accidental but, he died of infection two weeks later. Rumors went around that Anderson was to be charged in the man's death so, he fled the country. He became a drifter sometimes showing up at his father's house. The last anyone heard of him he was in Denver, Colorado in 1879
After the war the Johnson family returned to Chattanooga to find their home and belongings had been destroyed. Johnson set out to rebuild his Chattanooga home located on Boyce St. Around that time Johnson purchased from the Union Army the water company that the Army had built. Col. Johnson changed the name and founded the Lookout Water Works and served as its president for seventeen years. The Lookout water company Col. Johnson founded was located at 274 Market St. from 1876 - 1882 then moved to 10th St and became the City Water Co. which is now the Tennessee-American Water Co.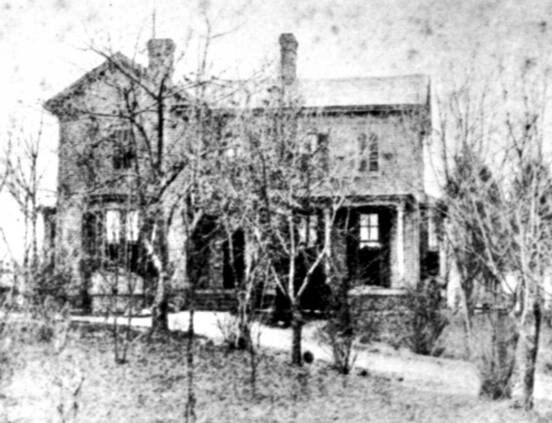 Johnson's Boyce St. home after being rebuilt
In 1878 Chattanooga experienced a Yellow Fever Epidemic that caused residents to leave for safer conditions in the mountains to avoid the disease. Seeing the demand for property away from Chattanooga, Johnson began subdividing the land that Mrs. Johnson had inherited from her father Col. Whiteside's estate. In the beginning the Johnson's picked whom they wanted to sell lots to and he refused to sell more than one lot to any one buyer.
In 1885 Charles Cravens Anderson the Grandson of Robert Cravens was exploring caves beneath his grandfathers property when he discovered what became known as Mystery Falls. At the base of the falls he found a stream and determined that the water could be used in what would soon be ST Elmo. In 1886 Anderson started a stock company to carry out the project. The company drilled shafts so the water could be piped to ST Elmo. Sometime in 1887 the water began being pumped out at a rate of 975 gallons per minute. Charles Cravens Anderson leased the spring to Col. Johnson's Lookout Water Co. for a fee of fifteen dollars a day. By 1911 the Mystery Falls spring located near Old Wauhatchie was closed and stopped supplying water to the area.
Originally the community was rather small consisting of what is now the business district. Johnson began purchasing additional land south of his farm. The Johnson's were living in their summer home, a farm he called "Eastside" because it was located on the east side of Lookout Mountain. The site of their farmhouse was located where the Incline Railway's parking lot is today. Elisha Kirklin's property joined Johnson's property on the north and Robert Cravens' property joined on the west. Kirklin's property was often confused as being Col. Johnson's property. Sometime around 1886 Col. Johnson began construction on a new house for his family while watching his new community quickly grow. Soon Col. Johnson needed to purchase more land so his community could continue to expand.
In 1888 the Johnson family moved into their new home located at the present day Alabama Avenue. The house was a beautiful mansion with ten rooms, a tower, tower room, full attic, full basement and a wine cellar. Their home had a slate roof, hand carved cherry woodwork in some rooms and golden oak in other rooms. Johnson had stained glass installed in his library, dining room and front hall. The home was also equipped with a tin tub and Chattanooga's first furnace. Johnson referred to his home as "the house" and it became the center piece of the community. Col. Johnson named his new community after the book "ST Elmo" written by Augusta Evans. Evans was a personal friend of Thankful Johnson and had visited the Johnson's often. The well-known author wrote the book while visiting Lookout Mountain. She felt that the valley below reminded her of ST Elmo Castle in Naples, Italy. Evans included the things she saw at the foot of the mountain such as the spring and blacksmith shop into her story. Johnson later said that he chose ST Elmo as the name of his community because he owned the land, spring, buildings and roads described in Evans' book.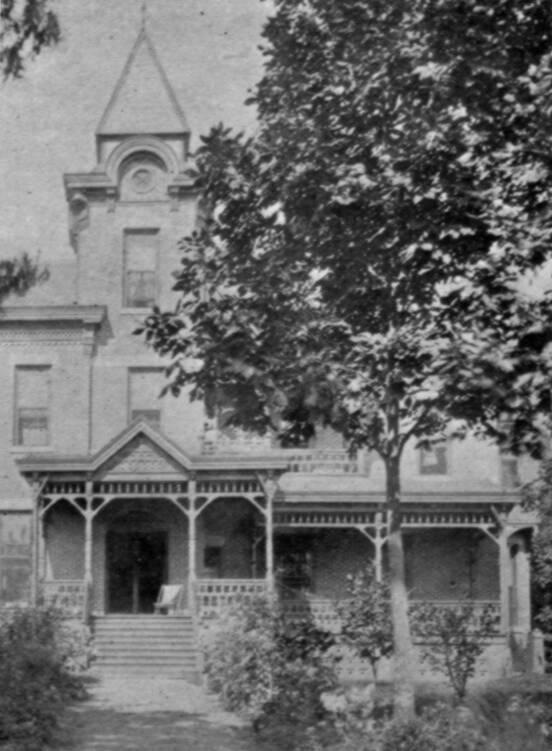 Johnson Family's 4301 Alabama Avenue home
After moving into the new house Col. Johnson had his farmhouse dismantled and relocated where it remains today. The location is 4403 Alabama Avenue, the house is the oldest structure in ST Elmo although, the old farmhouse has seen some alterations and may not look like it did when Johnson lived in it, it is the house where ST Elmo was conceived.
A.M. Johnson believed in education and that neighbors should be involved in their community. He founded the ST Elmo Book Club in which he was the only male member. The idea was for neighbors to meet and swap books with each other. The book club also served as a way for neighbors to socialize. Col. Johnson was instrumental in helping to establish the Missionary Ridge Chapter of the Sons of Confederate Veterans. Johnson also help start the ST Elmo Bank and Trust and Forest Hills Cemetery. Johnson also founded Lookout Rolling Mill Company and served as president until 1887. ST Elmo's founder donated land at the corner of W47th St. and Alabama Ave. where a small wood frame school was built.
In 1892 Johnson and some of his neighbors met at his home to discuss starting a Sunday School Class in ST Elmo. At the time going to church was a real task as horse and buggy was the only means of travel to Chattanooga. The long ride made attending church not so important to some. Col. Johnson felt that children should be thought about their faith. Then in October 1893 the Guild of ST Elmo held its first class. The location for the class was the second floor of the Music Hall which was located at the corner of W45th St. and ST Elmo Avenue. The Guild rented the hall for three dollars a month. Col. Johnson served as the Guild's president and as secretary. Later the Guild took over the first floor as well and turned it into a chapel complete with an organ and alter. The Episcopal Church remained here until 1904.
It is not widely known that Col. A.M. Johnson was a music lover and a talented musician as well. Johnson played many different instruments such as the piano, violin, clarinet and mandolin. He collected many instruments in his lifetime and Johnson played in the Chattanooga Silver Cornet Band. In his will Johnson left an instrument to each of his children as well as money and property. Shortly before his death Col. Johnson had secured the rights for a Coca Cola franchise in Chicago, Illinois but, died before he could develop the company. Oddly enough after his death two of Johnson's family members tried to develop the franchise and both died before they could.
Sadly Col. A.M. Johnson died in 1903 but, his sense of helping and giving of himself to his community continued even in death. In his will Col. Johnson left the property across the street from his house to be used to build an Episcopal church in honor of his wife. Thankful Memorial Episcopal Church formally opened in May 1907. Johnson also left property to build a new elementary school for ST Elmo. Thankful Whiteside Johnson suffered for many years from an unknown aliment brought on by the years of hardship she endured during the Civil War, Yellow Fever Epidemic and child birth. On January 28, 1890 Thankful passed away and was buried in Forest Hills Cemetery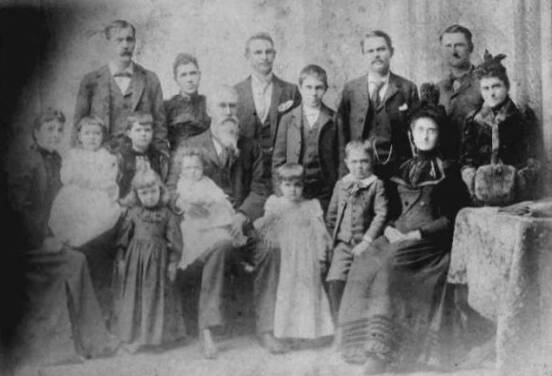 Col. and Mrs. A.M. Johnson with children and grandchildren