Thurman Family Cemetery
Many people living in St Elmo are not aware that St Elmo has another Cemetery. Thurman Cemetery is located beside the entrance to the City Of Chattanooga collection center near the GA. state line.
Thurman Cemetery was named for Elijah Thurman who was one of St. Elmo's earlist settlers. Thurman Cemetery is located in the St. Elmo area of Chattanooga. It is a small cemetery located on private property that is fenced and locked. There are only six markers remaining. The additional information for this survey was taken from the WPA survey made prior to 1939. The land for the cemetery was given by Elijah Thurman in 1873.
The following list was compiled by Alma Webb using death certificates and should be considered a complete listing.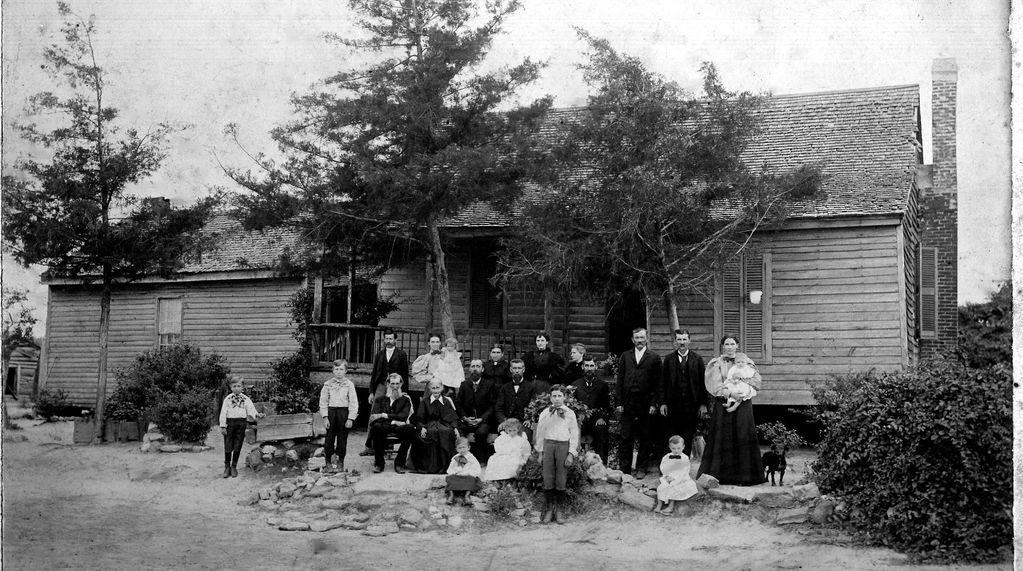 Thurman Family at their Georgia farm
Bradford, Archie D

Bradford, Bessie Davis

Bradford, William J

Chambers, Henry H C

Chambers, Mary M Thurman

Davis Bradford, Bessie

Davis Thurman, Emily

Davis, Arch T

Davis, Carmel Parks

Davis, Emily Thurman

Deratt, Edna D

Hamill Thurman, Margaret Jane

Mathis Thurman, Mary Docia

Rice Thurman, Minervia

Thurman, Albert

Thurman, Charlie H

Thurman, Elijah

Thurman, Elijah M

Thurman, Frank

Thurman, John

Thurman, Lucy Bell

Thurman, Margaret Jane Hamill

Thurman, Martha E

Thurman, Mary Docia Mathis

Thurman, Mary Eliza

Thurman, Minerva Dealphia

Thurman, Minervia D

Thurman, Minervia Rice

Thurman, Monroe Rollins

Thurman, Raymond M.

Thurman, Sallie C

Thurman, Sallie Carroll

Thurman, Walter J

Wyatt, Alford

07/25/1899

00/00/1878

03/09/1872

09/14/1870

11/10/1871

00/00/1878

00/00/1843

00/00/1876

00/00/1881

00/00/1843

*

03/10/1852

03/11/1849

00/00/1816

02/07/1874

*

02/07/1805

03/20/1875

12/11/1877

02/09/1845

11/7/1878

03/10/1852

00/00/1838

03/11/1849

00/00/1840

02/04/1884

02/04/1888

00/00/1816

05/18/1836

03/09/1893

01/07/1871

01/07/1871

10/09/1882

*

02/08/1945

00/00/1924

12/07/1941

11/22/1929

10/09/1905

00/00/1924

00/00/1889

00/00/1899

00/00/1909

00/00/1889

*

02/05/1934

10/17/1923

00/00/1890

02/22/1898

03/16/1963

01/30/1873

03/17/1912

02/28/1896

02/27/1933

09/01/1903

02/05/1934

00/00/1910

10/17/1923

00/00/1880

06/25/1909

06/25/1909

00/00/1890

09/07/1896

12/22/1966

09/17/1910

09/17/1909

02/15/1904